Draglinks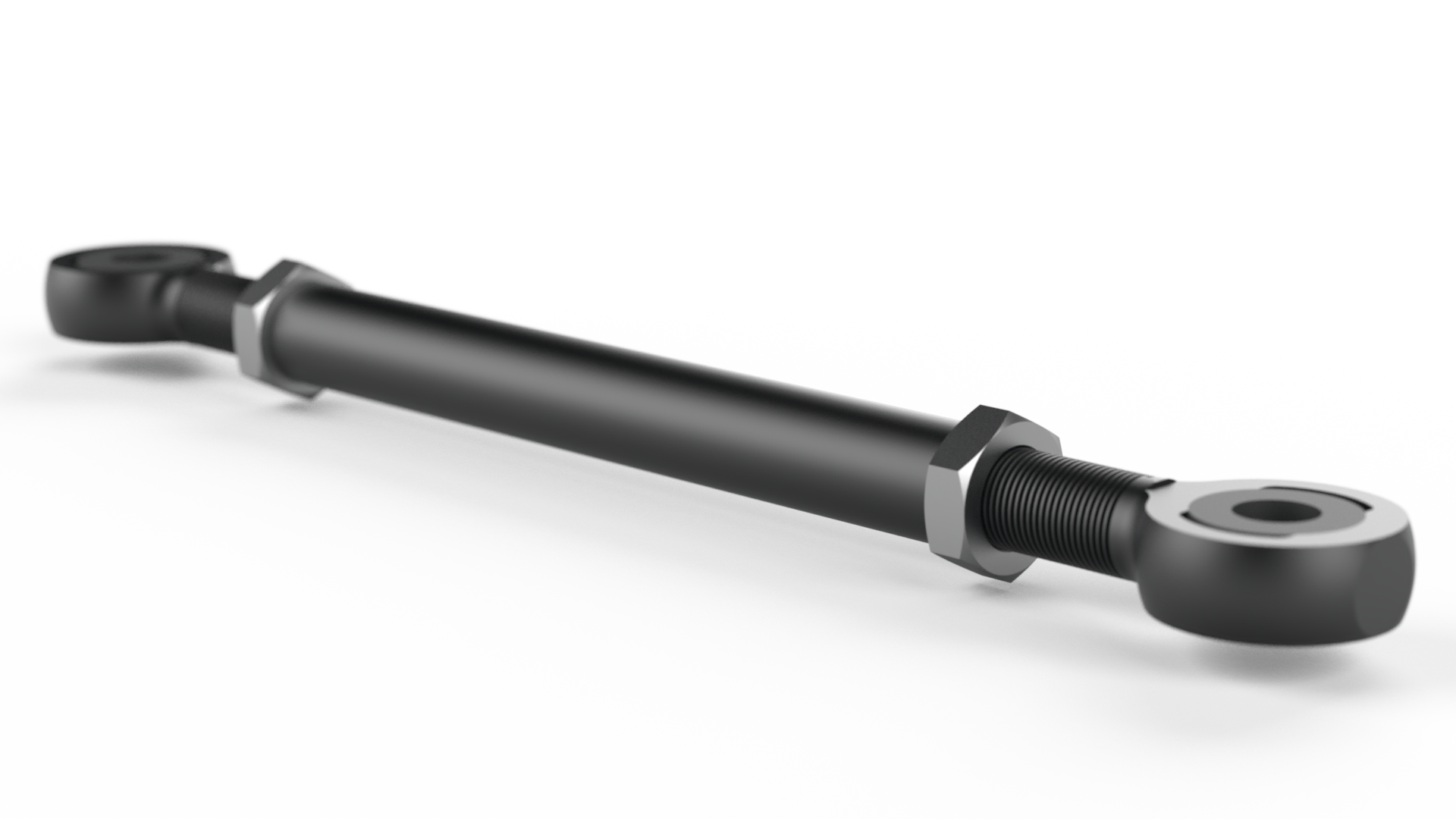 The Jefa 100 series aluminium draglink
With the 100 series draglink Jefa Steering introduces a new style of draglink design. The use of high strength aluminium AlMgSi1 creates a lighter and stronger solution over the common stainless steel solutions (proof stress of 280 N/mm² compared to 200 N/mm² for stainless steel).
The fully articulated rose joints on the draglink aren't industry joints, but a special design by Jefa Steering and made from high strength anodised aluminium with an easy removable delrin ball inside. This solution finally solves the electrically disconnection of the rudder from the rest of the steering system and boat. (See our electrolysis page for further information.)
Due to the long threaded part of the rose joint a total adjustment of 110 mm is created. This high adjustment eliminates the necessity to weld the draglink to length, one merely has to choose the correct draglink for the length required.
The delrin ball can easily be removed by rotating it 90º and pulling it out of the housing. As a rose joint is one of the wearing parts of a rack and pinion system, this solution provides a simple and cheap service exchange in the future. Conventional rose joints need to be completely exchanged when worn.
The Jefa rose joints standard have a 16 mm hole, but they are also available in imperial sizes for replacement on other steering systems.
The Jefa draglinks up until 600 mm centres have 25 mm thick wall tubing, from 600 mm to 1400 mm centres 30 mm thick wall tubing is used. Both tubes have an inside diameter of 18 mm.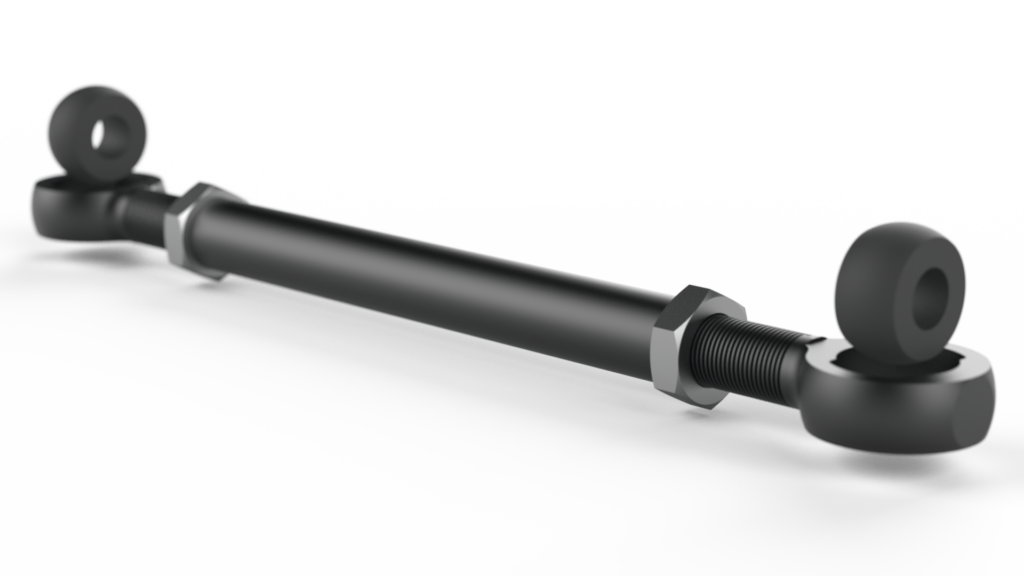 DATA TABLE
Jefa 100 series draglinks and accessories
| Part No. | Description |
| --- | --- |
| DL020030-25 | 100 series draglink, 200 to 300 mm centres, Ø25 mm tube |
| DL020030-30 | 100 series draglink, 200 to 300 mm centres, Ø30 mm tube |
| DL030040-25 | 100 series draglink, 300 to 400 mm centres, Ø25 mm tube |
| DL030040-30 | 100 series draglink, 300 to 400 mm centres, Ø30 mm tube |
| DL040050-25 | 100 series draglink, 400 to 500 mm centres, Ø25 mm tube |
| DL040050-30 | 100 series draglink, 400 to 500 mm centres, Ø30 mm tube |
| DL040050-40 | 100 series draglink, 400 to 500 mm centres, Ø40 mm tube |
| DL050060-25 | 100 series draglink, 500 to 600 mm centres, Ø25 mm tube |
| DL050060-30 | 100 series draglink, 500 to 600 mm centres, Ø30 mm tube |
| DL050060-40 | 100 series draglink, 500 to 600 mm centres, Ø40 mm tube |
| DL060070-30 | 100 series draglink, 600 to 700 mm centres, Ø30 mm tube |
| DL060070-40 | 100 series draglink, 600 to 700 mm centres, Ø40 mm tube |
| DL060070-50 | 100 series draglink, 600 to 700 mm centres, Ø50 mm tube |
| DL070080-30 | 100 series draglink, 700 to 800 mm centres, Ø30 mm tube |
| DL070080-40 | 100 series draglink, 700 to 800 mm centres, Ø40 mm tube |
| DL070080-50 | 100 series draglink, 700 to 800 mm centres, Ø50 mm tube |
| DL080090-30 | 100 series draglink, 800 to 900 mm centres, Ø30 mm tube |
| DL080090-40 | 100 series draglink, 800 to 900 mm centres, Ø40 mm tube |
| DL080090-50 | 100 series draglink, 800 to 900 mm centres, Ø50 mm tube |
| DL090100-30 | 100 series draglink, 900 to 1000 mm centres, Ø30 mm tube |
| DL090100-40 | 100 series draglink, 900 to 1000 mm centres, Ø40 mm tube |
| DL090100-50 | 100 series draglink, 900 to 1000 mm centres, Ø50 mm tube |
| DL100110-30 | 100 series draglink, 1000 to 1100 mm centres, Ø30 mm tube |
| DL100110-40 | 100 series draglink, 1000 to 1100 mm centres, Ø40 mm tube |
| DL100110-50 | 100 series draglink, 1000 to 1100 mm centres, Ø50 mm tube |
| DL110120-30 | 100 series draglink, 1100 to 1200 mm centres, Ø30 mm tube |
| DL110120-40 | 100 series draglink, 1100 to 1200 mm centres, Ø40 mm tube |
| DL110120-50 | 100 series draglink, 1100 to 1200 mm centres, Ø50 mm tube |
| DL120130-30 | 100 series draglink, 1200 to 1300 mm centres, Ø30 mm tube |
| DL120130-40 | 100 series draglink, 1200 to 1300 mm centres, Ø40 mm tube |
| DL120130-50 | 100 series draglink, 1200 to 1300 mm centres, Ø50 mm tube |
| DL130140-30 | 100 series draglink, 1300 to 1400 mm centres, Ø30 mm tube |
| DL130140-40 | 100 series draglink, 1300 to 1400 mm centres, Ø40 mm tube |
| DL130140-50 | 100 series draglink, 1300 to 1400 mm centres, Ø50 mm tube |
| DL140150-30 | 100 series draglink, 1400 to 1500 mm centres, Ø30 mm tube |
| DL140150-40 | 100 series draglink, 1400 to 1500 mm centres, Ø40 mm tube |
| DL140150-50 | 100 series draglink, 1400 to 1500 mm centres, Ø50 mm tube |
| DL150160-30 | 100 series draglink, 1500 to 1600 mm centres, Ø30 mm tube |
| DL150160-40 | 100 series draglink, 1500 to 1600 mm centres, Ø40 mm tube |
| DL150160-50 | 100 series draglink, 1500 to 1600 mm centres, Ø50 mm tube |
| DL160170-30 | 100 series draglink, 1600 to 1700 mm centres, Ø30 mm tube |
| DL160170-40 | 100 series draglink, 1600 to 1700 mm centres, Ø40 mm tube |
| DL160170-50 | 100 series draglink, 1600 to 1700 mm centres, Ø50 mm tube |
| DL170180-30 | 100 series draglink, 1700 to 1800 mm centres, Ø30 mm tube |
| DL170180-40 | 100 series draglink, 1700 to 1800 mm centres, Ø40 mm tube |
| DL170180-50 | 100 series draglink, 1700 to 1800 mm centres, Ø50 mm tube |
| DL180190-30 | 100 series draglink, 1800 to 1900 mm centres, Ø30 mm tube |
| DL180190-40 | 100 series draglink, 1800 to 1900 mm centres, Ø40 mm tube |
| DL180190-50 | 100 series draglink, 1800 to 1900 mm centres, Ø50 mm tube |
| DL190200-30 | 100 series draglink, 1900 to 2000 mm centres, Ø30 mm tube |
| DL190200-40 | 100 series draglink, 1900 to 2000 mm centres, Ø40 mm tube |
| DL190200-50 | 100 series draglink, 1900 to 2000 mm centres, Ø50 mm tube |
| DL200210-40 | 100 series draglink, 2000 to 2100 mm centres, Ø40 mm tube |
| DL200210-50 | 100 series draglink, 2000 to 2100 mm centres, Ø50 mm tube |
| DL210220-40 | 100 series draglink, 2100 to 2200 mm centres, Ø40 mm tube |
| DL210220-50 | 100 series draglink, 2100 to 2200 mm centres, Ø50 mm tube |
| DL220230-40 | 100 series draglink, 2200 to 2300 mm centres, Ø40 mm tube |
| DL220230-50 | 100 series draglink, 2200 to 2300 mm centres, Ø50 mm tube |
| DL230240-40 | 100 series draglink, 2300 to 2400 mm centres, Ø40 mm tube |
| DL230240-50 | 100 series draglink, 2300 to 2400 mm centres, Ø50 mm tube |
| DL240250-40 | 100 series draglink, 2400 to 2500 mm centres, Ø40 mm tube |
| DL240250-50 | 100 series draglink, 2400 to 2500 mm centres, Ø50 mm tube |
| DL250260-40 | 100 series draglink, 2500 to 2600 mm centres, Ø40 mm tube |
| DL250260-50 | 100 series draglink, 2500 to 2600 mm centres, Ø50 mm tube |
| DL260270-40 | 100 series draglink, 2600 to 2700 mm centres, Ø40 mm tube |
| DL260270-50 | 100 series draglink, 2600 to 2700 mm centres, Ø50 mm tube |
| DL270280-40 | 100 series draglink, 2700 to 2800 mm centres, Ø40 mm tube |
| DL270280-50 | 100 series draglink, 2700 to 2800 mm centres, Ø50 mm tube |
| DL280290-40 | 100 series draglink, 2800 to 2900 mm centres, Ø40 mm tube |
| DL280290-50 | 100 series draglink, 2800 to 2900 mm centres, Ø50 mm tube |
| DL290300-40 | 100 series draglink, 2900 to 3000 mm centres, Ø40 mm tube |
| DL290300-50 | 100 series draglink, 2900 to 3000 mm centres, Ø50 mm tube |
| DL300310-40 | 100 series draglink, 3000 to 3100 mm centres, Ø40 mm tube |
| DL300310-50 | 100 series draglink, 3000 to 3100 mm centres, Ø50 mm tube |
| DL310320-40 | 100 series draglink, 3100 to 3200 mm centres, Ø40 mm tube |
| DL310320-50 | 100 series draglink, 3100 to 3200 mm centres, Ø50 mm tube |
| DL320330-40 | 100 series draglink, 3200 to 3300 mm centres, Ø40 mm tube |
| DL320330-50 | 100 series draglink, 3200 to 3300 mm centres, Ø50 mm tube |
| DL330340-40 | 100 series draglink, 3300 to 3400 mm centres, Ø40 mm tube |
| DL330340-50 | 100 series draglink, 3300 to 3400 mm centres, Ø50 mm tube |
| DL340350-40 | 100 series draglink, 3400 to 3500 mm centres, Ø40 mm tube |
| DL340350-50 | 100 series draglink, 3400 to 3500 mm centres, Ø50 mm tube |
| DL350360-40 | 100 series draglink, 3500 to 3600 mm centres, Ø40 mm tube |
| DL350360-50 | 100 series draglink, 3500 to 3600 mm centres, Ø50 mm tube |
| DL360370-40 | 100 series draglink, 3600 to 3700 mm centres, Ø40 mm tube |
| DL360370-50 | 100 series draglink, 3600 to 3700 mm centres, Ø50 mm tube |
| DL370380-40 | 100 series draglink, 3700 to 3800 mm centres, Ø40 mm tube |
| DL370380-50 | 100 series draglink, 3700 to 3800 mm centres, Ø50 mm tube |
| DL380390-40 | 100 series draglink, 3800 to 3900 mm centres, Ø40 mm tube |
| DL380390-50 | 100 series draglink, 3800 to 3900 mm centres, Ø50 mm tube |
| DL390400-40 | 100 series draglink, 3900 to 4000 mm centres, Ø40 mm tube |
| DL390400-50 | 100 series draglink, 3900 to 4000 mm centres, Ø50 mm tube |
| DL400410-40 | 100 series draglink, 4000 to 4100 mm centres, Ø40 mm tube |
| DL400410-50 | 100 series draglink, 4000 to 4100 mm centres, Ø50 mm tube |
| DL410420-40 | 100 series draglink, 4100 to 4200 mm centres, Ø40 mm tube |
| DL410420-50 | 100 series draglink, 4100 to 4200 mm centres, Ø50 mm tube |
| DL420430-40 | 100 series draglink, 4200 to 4300 mm centres, Ø40 mm tube |
| DL420430-50 | 100 series draglink, 4200 to 4300 mm centres, Ø50 mm tube |
| DL430440-40 | 100 series draglink, 4300 to 4400 mm centres, Ø40 mm tube |
| DL430440-50 | 100 series draglink, 4300 to 4400 mm centres, Ø50 mm tube |
| DL440450-40 | 100 series draglink, 4400 to 4500 mm centres, Ø40 mm tube |
| DL440450-50 | 100 series draglink, 4400 to 4500 mm centres, Ø50 mm tube |
| DL450460-50 | 100 series draglink, 4500 to 4600 mm centres, Ø50 mm tube |
| DL460470-50 | 100 series draglink, 4600 to 4700 mm centres, Ø50 mm tube |
| DL470480-50 | 100 series draglink, 4700 to 4800 mm centres, Ø50 mm tube |
| DL480490-50 | 100 series draglink, 4800 to 4900 mm centres, Ø50 mm tube |
| DL490500-50 | 100 series draglink, 4900 to 5000 mm centres, Ø50 mm tube |
| DL500510-50 | 100 series draglink, 5000 to 5100 mm centres, Ø50 mm tube |
| DL510520-50 | 100 series draglink, 5100 to 5200 mm centres, Ø50 mm tube |
| DL520530-50 | 100 series draglink, 5200 to 5300 mm centres, Ø50 mm tube |
| DL530540-50 | 100 series draglink, 5300 to 5400 mm centres, Ø50 mm tube |
| DL540550-50 | 100 series draglink, 5400 to 5500 mm centres, Ø50 mm tube |
| DL550560-50 | 100 series draglink, 5500 to 5600 mm centres, Ø50 mm tube |
| DL560570-50 | 100 series draglink, 5600 to 5700 mm centres, Ø50 mm tube |
| DL570580-50 | 100 series draglink, 5700 to 5800 mm centres, Ø50 mm tube |
| DL580590-50 | 100 series draglink, 5800 to 5900 mm centres, Ø50 mm tube |
| DL590600-50 | 100 series draglink, 5900 to 6000 mm centres, Ø50 mm tube |
| DL600610-50 | 100 series draglink, 6000 to 6100 mm centres, Ø50 mm tube |
| DL610620-50 | 100 series draglink, 6100 to 6200 mm centres, Ø50 mm tube |
| DL620630-50 | 100 series draglink, 6200 to 6300 mm centres, Ø50 mm tube |
| DL630640-50 | 100 series draglink, 6300 to 6400 mm centres, Ø50 mm tube |
| DL640650-50 | 100 series draglink, 6400 to 6500 mm centres, Ø50 mm tube |
| DL650660-50 | 100 series draglink, 6500 to 6600 mm centres, Ø50 mm tube |
| DLB16 | Ball for 100 series draglink with 16 mm hole |
| DLB22 | Ball for 100 series draglink with 22 mm hole |
| DLB58 | Ball for 100 series draglink with 5/8" mm hole |
| DLRJ100-16 | Rose joint, 16mm hole |
| DLRJ100-22 | Rose joint, 22mm hole |
| DL-LT | Surcharge for left thread rosejoint |
| DL-SPILT | Surcharge for split draglink in 2 pices |